Recommended Supplements while Eating One Meal a Day – Omad Diet 
It's important to supplement while eating one meal a day to ensure you are maintaining a balanced and healthy diet.
But it's also important that supplements not be considered a replacement for your meal.
If your omad diet contains a high-fat content and processed food, supplements will help you achieve better overall health.
Supplements cannot make up all the difference in poor food choices in the long term.  Consider supplements an optimal choice with the omad diet that will give you a better well being overall.
[no_toc]
Being on a highly nutritious diet can still be a challenge to get everything that you will need.  There are too many nutritional vitamin and minerals that our body needs, which makes it difficult to get on a daily basis without some form of supplementation.
To truly get everything we need, we would have to mix together too many sources that make this very impractical.
The other issue is calories.  The number of calories one would have to consume to achieve this would also be very impractical.
This is why it's very important that look at supplements to give our body what it truly needs to stay at its best.
The following supplements are what I take daily and recommend to use when eating one meal a day.
 1. Fish Oil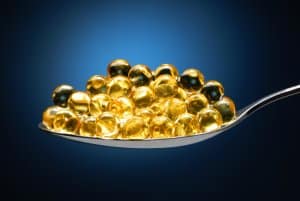 What is Fish Oil?
Fish Oil is from the tissue of oily fish.  The better sources of fish oil come from cold-water and fish that are fattier.
It is a concentrated source consisting of omega-3 fats.  These are also called fatty acids.  To make sure we are getting these essential fats, we must get them from omega 3 foods or in the form of supplements.
Some great sources of fish to eat include wild-caught salmon, white fish, anchovies, sardines, and herring.
Why I supplement Fish Oil
In this study that was published in Mayo Clinic Proceedings, it finds evidence of the benefits of Omega-3 fats reducing heart problems.
Why I use Dr. Tobias Fish Oil Daily
Its ultra pure and it's third-party tested.  It's also purified free of heavy metals and other harmful toxins.
You also get the recommendation of 600 mg DHA per day in a single serving instead of multiple pills.
Its also third-party tested to ensure purity, safety, nutritional value, and label accuracy.
 2. Multivitamin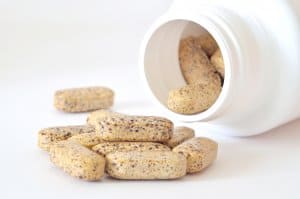 Why take a multivitamin?
If we are not eating enough fruits and vegetables, we are not getting the essential nutrients our body needs.  By getting these nutrients, we can lower the risk for cancer, stroke, and heart disease.   The Centers for Disease Control, recommends adults consume 2-3 cups of vegetables on a daily basis as well as 1.5-2 cups of fruit.

The Center for Disease Control also found that 76% weren't eating enough fruit.  This also includes 87% of adults not eating enough vegetables.
Benefits of Vitamins
Vitamin A – lower levels can be linked to decreased immune response and increased infection risks.  This is important because your immune system is your body's first line of defense.
Vitamin B6 – Deficiencies have shown someone to have a weaker immunity.   Supplementing this can help restore immune function.
Vitamin C -Can boost immune system response.  This can help prepare your body to fight off any disease or infection if it needs to.
Vitamin D – This can be controversial.  This can actually be produced via sunlight, making it a hormone.   It could have the ability to fight off infections, but this is still in research.
Vitamin E – increase may raise post-vaccination response to hepatitis B and tetanus.
How to get your Nutrients
By taking a daily multivitamin.  Think of a multivitamin as an insurance policy when you eat your one meal a day.  It is a daily guarantee that your body will get the vitamins and minerals that it needs.
It can also help make up for shortfalls if you're not getting enough in your omad meal.
Why I take Kirkland Daily Multivitamin
It provides all the essential vitamins and minerals that you need
It contains more folic acid, selenium, and calcium
It's an easy 1 pill per day to get all your nutrients.
3. Apple Cider Vinegar – (Optional) – Highly Recommended

Why drink it daily?
Drinking Apple Cider Vinegar daily has shown to provide numerous health benefits.
Some of the following health benefits are:
Helps the body to maintain a healthy ph level
Can help lower blood pressure
Aids in Digestion
Contains antioxidant properties that can help pre-mature aging
Has been shown to help weight loss
Can help prevent Osteoporosis
Helps with Blood Sugar
For those that are diabetic, studies have shown apple cider vinegar to aid in improving insulin sensitivity.
Why I drink it
For me personally, it helps aid in acid reflux and heartburn.  I have found it to be an excellent way to help my digestion and also gives me many other bonus benefits as well.  ACV helps by stimulating the digestive juices that aid in the body breaking down food.
Why I drink Braggs Apple Cider Vinegar
It is one of the best options on the market today. It is bottled unpasteurized allowing live cultures to help you. It is also important to note that only organic apples are used to produce the vinegar. The company manufacturing this only gets apples from farms in the country.
Overall, Bragg Organic Raw Apple Cider Vinegar is the leading name in the market partly because they have been in the industry for a long time. That makes them a trustworthy brand.
No products found.
4. Bone Broth (Optional) – Highly Recommended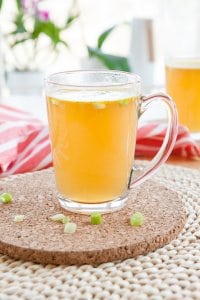 What is Bone Broth?
Bone Broth has been around for literally thousands of years.  Ancient Times show people using bones, meat, herbs, and vegetables to create stocks and broth.
Traditionally it is made by slow-simmering bones of beef, fish, or chicken for at least 12 hours.  After this, vegetables and seasoning are added for flavoring.
What are the benefits?
 Bone Broth has been shown to have the following benefits:
Packed full of Amino Acids
Boost in Immune System
Increases bone strength
Aids with Healthy Skin
Why I drink it
Besides Coffee and Tea, it is another great liquid that you can drink outside of your eating window while on omad.  It has personally helped me psychologically by having something besides coffee and tea outside my eating window.  At the same time, I am able to get the added benefits it provides as well.
Why I Drink Kettle and Fire Bone Broth
It is one of the healthiest on the market and is packed with amino acids and proteins. They only use certified organic ingredients from pasture-raised cattle.  Each batch is slowly simmered for 20+ hours. They also use biodegradable packaging to prevent the release of unwanted chemicals.
A Vegan Alternative to Bone Broth
Often times I am asked about what options there are for a vegan alternative to bone broth.  I have heard many great things about Millie's Vegetable Sipping Broth from many in the community.  I really love the fact that it contains 75% less sodium than bouillon and less than 20 calories per serving.  All the ingredients are natural, organic and gluten-free.
 Maintain a healthy lifestyle
While on the omad diet, make a healthy choice and do not smoke cigarettes and use alcohol in moderation.
While it's not necessary on the omad diet, putting whole grains, lean protein sources and fresh produce on your plate will only help your health.   Getting a good nights sleep and maintaining your blood pressure will also play roles in your well being.
What supplements have you found beneficial while doing the Omad Diet?
Leave a comment below or visit the Omad Diet Community Forums.