FoodSaver, of course, is no new name to the vacuum sealing sphere. In fact, its products are so much that it becomes quite difficult to pick out the best option for you.
But in this guide, we'll be taking a look at the foodsaver v2040 vacuum sealer. We've seen several satisfactory reviews for this product. However, this guide will cover personal experiences of testing and using this product for a few months. With no further ado, let's delve right into it.
What does the foodsaver v2040 vacuum sealer do?
Foodsaver v2040, just like every vacuum sealer, helps you keep moisture and air at bay for your foods and other products. With this, you can lock in the freshness of the products and keep them healthy over an extended period. Besides, if you vacuum-seal your food before storing it in the fridge, you can exempt yourself from the raging concern of food burns. All in all, you get to extend the shelf life of whatever product you use it for by up to 7 tunes more than what is obtainable from the traditional storage approaches.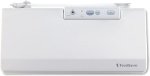 Why opt-in for this sealing system?
The foodsaver v2040 vacuum sealer is definitely a companion you should always have in your kitchen, considering the overwhelming range of features it embodies. Firstly, the unit has a seamless push-and-lock latch. This makes it work perfectly for hands-free operations. Besides, if you're working with delicate or perishable products, it also features a crush-free framework that preserves the integrity of the product.
Another feature you'd find rather intriguing is the canister mode. Coupled with the canister mode is a hassle-free accessory port. With these, you can easily seal things like canisters, universal leads, and bottle stoppers, among others. It does this within a few minutes as well with terrific performance. Besides the canister mode, it also has a drip tray component which all unwanted liquids drain into. Best of all, this tray is anti-bacterial so you won't have to worry about annoying microbial buildups. You can also clean it easily by placing it inside a dishwasher. If you tend to package moist items frequently, the drip tray is definitely one feature you'll find interesting and very helpful.
Inside the package, you can find different sizes of vacuum bags. This makes sure you won't have to spend money buying vac bags for a very long time.
Experience-based insights into using this food saver vacuum sealer unit.
If what you're freezing is baked (things like muffins, cakes, etc.,), you may want to consider freezing them initially before this vacuum sealing system. Doing it this way will make sure that the food is not crushed.
And remember, when it comes to vacuum sealing, nothing is too small. Even that small cheese of leftover spaghetti with sauce can be sealed.
Read more: Top Rated Best Vacuum Sealer Reviews (Buying Guide):
https://vacuumsealerjournal.com/
Also, for meat bulk buyers, be sure to separate the meat and use the foodsaver machine to preserve them as soon as you get home. As such, you can steer clear of potential wastage.
Following these tips, you can always get the best out of what is already known to be the best food vacuum sealer.